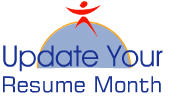 Portland, Oregon — Because you never know when you'll need to use your résumé, the month of September has been designated "International Update Your Résumé Month" as an annual reminder for job seekers to review their résumé, LinkedIn profile, and other career documents.
"If you are asked for your résumé, you want to be able to provide it quickly," says résumé writer Jennifer Owenby at ONB Professional Resume Services. "It can take time, to gather your accomplishments, and you don't want to forget something if you're in a rush."
Here are some guidelines for updating your résumé:
Is your work experience up to date? Need to add your current position? Now is also the time to review your accomplishments and make sure they are reflected in your résumé.
Check your contact information. Make sure you've included your customized LinkedIn URL on your résumé.
Update your education, training, and certifications.  Have you taken any classes in the last year? Earned a degree? Pursued a certification? Attended a job-related seminar?
"Most important, make sure the résumé makes it clear who you are, what you're good at, and what type of job you're interested in," Owenby said. "You have less than one minute to capture the attention of your résumé's reader, so make it count."
This is the 14th year for "International Update Your Résumé Month," originally created by Career Directors International in 2001 to support job seekers worldwide.
If you are interested in an interview, please contact Jennifer Owenby to schedule a free strategy session online at https://onbproresume.com/appointment-booking
Jennifer is a professional resume writer located in Portland, Oregon. With a background in recruiting, she saw thousands of qualified job seekers miss out on opportunities due to poor resumes. As a trained professional resume writer and member of the NRWA she now creates specialized resumes that showcase people's unique value and skills that gain them not only interviews but jobs, they are excited about. Jennifer is also a published fiction author and has written multiple short stories. She loves using her writing skills, recruiting experience, and creativity to produce targeted professional resumes with eye appeal. Her goal is to represent the best YOU on paper, so you can land an interview and a job offer that can change your life.