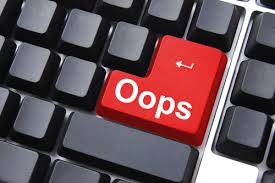 When looking for a new job or career change it's easy to make these mistakes. Here are some things to consider and adjustments you can easily implement.
Looking for a Job. Wait, I shouldn't look for a job? Don't just look for a job — look for a career. A calling. What are you meant to do? How can you use your skills, education, and experience for maximum benefit? You may not see that position advertised in a job posting. That doesn't mean it doesn't exist. What kinds of problems could you solve for a company? What kind of company needs those problems solved? Investigate how you could solve that problem for that kind of company.
Not Targeting Your Job Search. What kinds of jobs are you interested in? What kind of company do you want to work for? If your answer is, "I don't care, I just need a job," your job search is less likely to be successful than if you spend some time thinking about where you want to work, and what you want to do (and how to get there!).
Not Making It Easy for an Employer to See How You'd Fit In. Generic résumés don't attract employer attention. Instead, you need to show an employer how you can add value to their company. You need to customize your tool for the job. You wouldn't use a hammer to tighten a screw, would you? You can't use the same résumé to apply for vastly different jobs — for example, an elementary teaching position and a job as a sales assistant. Figure out what the key components of the job are, and then showcase how you can do those things in your résumé.
Quitting Your Job Instead of Keeping It While You Find a Better One. Maybe your Mom gave you this advice: "Don't quit your job until you have a new one." Mom was onto something. It's controversial, but hiring managers and recruiters confirm that it's easier to find a job if you're currently employed. Job seekers who have a job are more attractive candidates. Maybe it's because unemployment can make you (seem) desperate. But study after study shows that currently employed candidates are hired more frequently than unemployed job seekers … it's especially tough if you have been out of work for quite some time.
Confusing Activity With Action. Are you confusing "busywork" with progress? Are you spending a lot of time researching jobs online and applying for lots of positions? While it's recommended that you spend at least an hour a day on your job search if you are currently employed (and two to three times that if you are currently unemployed), make sure you are tracking how much time you are spending, and what you are spending it on. Spend your time on high-value tasks — like identifying and researching companies you'd like to work for, and trying to connect directly with hiring managers and recruiters, and having coffee with someone who works for the company you're applying at — and not just simply spending time in front of your computer.
Paying Attention to Other People's Opinions. "You have to do this," "Never do that," "My cousin's best friend got a job by standing out in front of the company wearing a sandwich board." Everyone's got an opinion about how to conduct a job search. Some of it is confusing, some of it is just plain wrong. Your friends and family can be wrong about how the job search works, and it might hurt your chances to get your dream job. Trust your résumé writer, and trust your instincts. Don't believe everything you read online, and remember that one person's opinion is just that — one person's opinion.
Doing the Same Thing Over and Over Again and Expecting Different Results. "I applied for six jobs and haven't heard anything back." Well, then something's not working. Either stop applying for advertised positions, start following up on the applications you've already put in, or figure out a different way to connect with your dream job. It's been said that "the definition of insanity is doing the same thing over and over again and expecting different results." If what you're doing isn't working, do something different!
Not Paying Attention to What Worked For You Before in Your Job Search. This is the opposite of doing the same thing over and over again and expecting different results. This time, we want you to achieve the same result as before — a great job. So look at what worked for you the last time you landed the job you wanted. Were you networking at a professional association meeting? At your child's basketball game and struck up a conversation with the person next to you? Or did you apply on a company's website? Consider doing more of what worked for you last time and see if it works for you again.
Applying Through Traditional Means. You see a job posted on Indeed.com for a job you're really interested in. Do you click "Apply Now"? Not without first looking to see if the job is advertised on the company's own website. Applying on the company's website is generally preferred to applying through a job search portal, even if the application button takes you to the same form. (That way, it will list the source of the application as the company website, and not Indeed.com.) After you apply online, don't stop there. See if you are already connected with someone at the company. Reach out to him or her and see if you can find the name of the hiring manager. Connect with the hiring manager directly by email or phone. Follow up by mailing a print copy of your résumé.
Forgetting That People Hire People. It's easy to get overwhelmed by the technology in a job search. How to make your résumé ATS-friendly (meaning, helping it get through the Applicant Tracking System software that many large companies use). How to use LinkedIn in the job search. Don't forget that ultimately, people hire people. Connecting to the right person at a company can make the difference between getting hired, and not even getting a response to your application.
If you enjoyed the post, please click the thumbs up icon above and let me know!