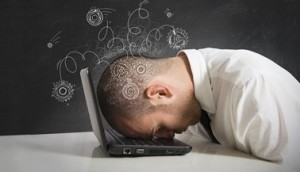 Nine out of ten hiring managers are looking at your social media profiles before making a hiring decision, according to Jobvite's annual Social Recruiting Survey (2014). More than half of those surveyed said they've reconsidered hiring a candidate based on what they found online!
As a job seeker, it's important to consider what a prospective employer will learn about you online. Social media profiles aren't just used to "rule out" candidates — your online presence can also improve your chances of getting the job, by providing examples of your work ethic, spotlighting mutual connections, and identifying cultural fit.
What a company finds about you online should reassure them about your qualifications and suitability as a prospective employee … not raise red flags. But it's the negative information that can hurt your chances of getting the job. Things like posts or photos about illegal drugs, sexual activity, guns, or alcohol can hurt your chances of being considered. But even things like poor spelling/grammar or profanity on your social media posts — or sharing information about your political affiliation — can impact your chances of being hired.
There are dozens of examples of candidates who have been dropped from consideration because they complained about their job on their social media accounts, or made fun of their boss or team online, or posted while they were supposed to be working, or revealed company secrets.
What is online about you is more important than ever, and this guide will help you manage your online presence as it relates to your job search.
Assess Your Presence
The first step is to see what's out there already. Monitoring your online presence is easy if you know which tools to use. Many of these are free.
Start by Googling yourself. On the Google homepage (http://www.google.com), type in your name.
If you have a common name, you will want to see what information is broadly available through a simple name search, but then also narrow it by your profession or geographic location. (For example: "Jane Jobseeker Public Relations" or "Jane Jobseeker Omaha.")
You will want to note how many search results are returned — but you will primarily be looking at the first 2-3 pages of search results.
Note: If you have a Google account (i.e., Gmail or YouTube), you will find you get different results if you are logged into your Google account when you conduct your search. Log out of Google before conducting your search so you can see a better representation of what others see when they Google your name.
Google Alerts
You should also set up Google Alerts for your name, so that you can be alerted when new information is posted online about you.
Go to:   http://www.google.com/alerts
Put your name in the search box. Then, click the "Show options" link.
Note: You can create multiple alerts with variations of your name — but also your location and industry as well — i.e., "Jane Jobseeker Public Relations" — like when you Googled yourself.
Then, determine how often you want the query to run.
You can also determine what sources you want searched. The default is "Automatic," but you can also limit the search to the following: News, Blogs, Web, Video, Books, Discussion, and/or Finance. You can also specify what language you want results for, if you want to limit your search by region, how many search results you want returned, and which email address to deliver your results to.
Then click the "Create Alert" button.
You can also use quotation marks to make your search more specific. Removing the quote marks makes it more likely that you will receive results that are irrelevant.
You can modify these alerts at any time, so start with broad results and you can refine them over time.
Using Google Tools to Manage Your Online Presence
Google provides some tools to help you manage your online presence. You can also use Google+ to create a profile to put your best foot forward.
Access your Google+ profile here: https://plus.google.com
You will need to sign into your Google account — or create one — to manage your information, including your bio, contact details, and other information. You can also link to other sites about you – or created by you. For example, you can link to your blog, online photos in Picasa, and other profiles, such as LinkedIn and Facebook.
Google recommends keeping your profile updated so people who are searching for you will be able to find precisely the information you want them to find.